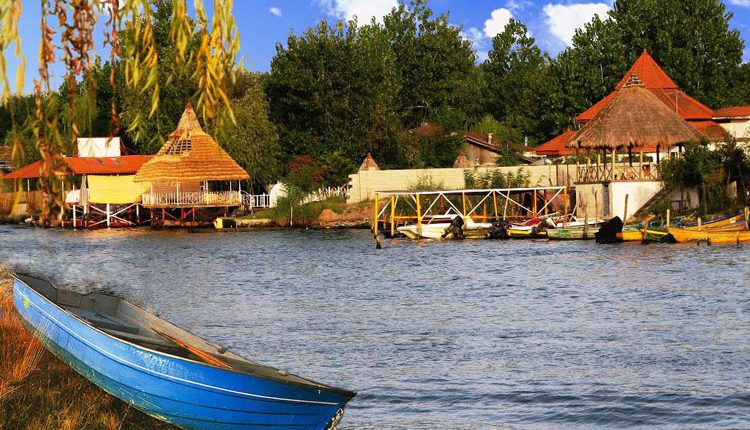 Anzali wetland, one of the most important wetland in Iran
Iran has a four-season nature and due to its special geographical location, every corner of it can be seen by the beauties of its generous nature.
Gilan province in northern Iran and on the southern margin of the Caspian Sea is one of the most important parts of the country in terms of natural wonders and attraction of tourists, so that annually invites many tourists and naturalists.
Undoubtedly one of the most important and remarkable natural attractions and tourism areas in Gilan province is Anzali Wetland.
Anzali wetland or Anzali Lagoon is located in Gilan province and southwest of the Caspian Sea coasts. Its geographical features are 28 – 37 degree north of the northeast latitude and 25 – 49 degree east longitude. The Anzali town is bounded on the south by the city of Somaye Sara, on the east by Pirbazar and on the west by the Abkenar and Cappourchal.
According to the Ramsar convention (The Ramsar Convention on Wetlands of International Importance especially as Waterfowl Habitat is an international treaty for the conservation and sustainable use of wetlands.  ), wetland is defined: Wetlands are marshy, basin, peat land (dense brown to black moss masses) and aquatic habitats with natural, artificial, permanent or temporary water with static, running, fresh, saline or saline water containing those waters of a sea that ​​tidal depths not lower than 6 m (tide).
In other words, "wetlands or marshes are habitats created by the combination of onshore and marine ecosystems.
Geologically speaking, the lagoons are bays separated by a sand blade from the sea and called the bay. "Of course, some of them are hollow points formed by the earth's crustal motions."
Anzali Wetland, with an area of ​​over 20,000 hectares, is one of the first internationally registered wetlands in Iran, and its name was registered in the Ramsar Convention International Wetlands List in 1975.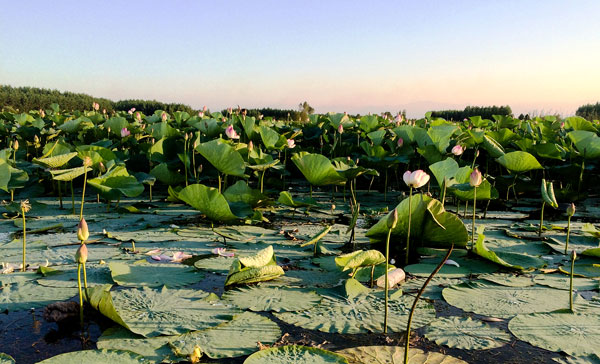 It is interesting to know, this wetland is just like the Koshiro Wetland in Koshiro Shitsogen National Park, Japan. This wetland, one of the most important wetlands in the country and a popular tourist center, is a natural habitat for many species.
Anzali Wetland due to its geographical location has a high amount of moisture and water and is unique among other wetlands in Iran.
This wetland is one of the freshwater wetlands which is located on the way of the rivers that flow into the Caspian Sea and plays the role of a treatment plant for running water in these rivers.
11 main rivers and 30 sub-rivers supply the water of the wetland and then irrigate the fields with surface flows into the Anzali Wetland.
The most important ones are: Pirbazar river,Ramezan bekande, Ghanadi, Nokhale, Siahdarvishan, Nargestan, Espand.
Finally, this water conveyed to the Caspian Sea by a shipping channel that Supported by two breakwaters located at the Anzali Harbor Facility
The Anzali Wetland is known for its marshy tulips that cover the entire surface of the wetland from late June to late summer and provide dreamy scenery.
The marsh or lotus tulip or lotus is a plant with round, large, heart-shaped, green leaves with large flowers with thick, numerous pink petals coming out of the water and seen at the water's surface.
The marsh tulip is categorized as a plant in the group of floating plants whose roots are in the water and the stems and leaves and flowers are floating outside the water.
Inside the Anzali lagoon, there is a facility such as the "Selke Wildlife Refuge" which is one of the valuable parts of wetland areas in the northern region of Iran and hosts many migratory birds annually.
Selke wildlife has an area about 360 Hectars and is located in the soutest region of Anzali wetland and within the Somesaray city limited. This region is one of the rare places where goose bride, swan and short goose choose as their habitat.
There is a protected area called Siahkim, in the southwestern part of the city, in the southwestern part of the wetland, where many plant and animal species live.This area, is ​​over 4114 hectares, is home to animals such as swans, goats, a special kind of ducks, crowned ducks, kutka, phylloops, hunters including eagles, sea lilies, delichehs, Kakai and….
The Siah Keshim region is well-known for breeding swallows and is the largest area for laying a special kind of heron which called gray heron in the southern Caspian Sea.
Gray herons are the largest herons in Guilan province, and more than 43 pairs of them live in the Siah Keshim Protected Area. The plant species in the area also include plants such as Louis, Ney, Jagan, Barhang, Asparagus, Apti, Trappa, Wet Tulip, Lotus, Seratophilum, aquatic species such as straw, coral, gypsy, and dry species such as alder.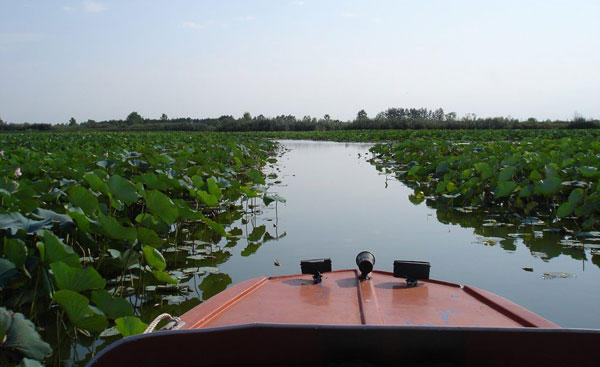 To the west of Salke Wildlife Refuge, there is an area called Sorkhankel, one of the country's wildlife sanctuaries. In this area, migratory birds, such as swans, goats, chickens, and ducks, Tawosk, Yeloh and Kakae, migrate to the Indian Ocean in winter and spend their winters there. Indigenous fish such as perch, hatter, carp, wire, shark (duck) and migratory fish such as whitefish, white gypsies and gypsies also live in the coral reef. Most of the vegetation in this area consists of reeds and leys, with abundant azolla, tricolor, tulip, and hornbeam.
In the Anzali wetland, there is variety of diverse plants and these plants are including peripheral plants, floating plants, submerged plants, and land plants around the wetland.
Marginal plants are plants that grow on the margins of lagoon and adjacent rivers. The roots of marginal plants grow in the soil, the lower part of them in water, and the upper part, which includes leaves and flowers, grow out of the water. Some types of marginal plants include common reed, asparagus, lui, syrup, polygon, aquamarine, aquamarine, blue heron, botomus, nelumbo, horse tail, millet, heatherbird and wetland tulip. Although wetland tulips are most popular among the marginal plants of the Anzali Lagoon, approximately two-thirds of the Anzali wetland is covered in straw.
Floating plants are plants whose main parts grow in water and its roots in the wetlands. Among the floating plants can be Atricularia, Chalvin, Hydrocaris, bayonet, small-bodied, multi-bodied, trapezoid, blue salmon, herbaceous grass, floating potamogton, despyrodella, aquatic ferns, hornbeam, frog White and… noted. The lotus flower is a large red and white flower that is unfortunately endangered in our country.
Immersed plants are plants that have all or many of their important parts immersed in water and may have flowers on the surface. The submerged plants include Mirpophilum, Seratophilum demersum, Seratophilum submarzum, Potamogenton pectinatus, Tiger, Thyme Lorgh, Hydraulic Ticillata, etc.
Wet soil around the wetland is very suitable for growing plants that require a lot of moisture and has caused the growth of many trees and shrubs in the area, including nettle, artemisia, alder in pond and palm and meadow.
Anzali Wetland is also home to a variety of animal species and species of birds, aquatic animals, mammals and even reptiles, amphibians, insects and rodents are found in the area
Anzali Wetland is a good place for migratory birds to enter Iran from neighboring countries. Among the Caspian Sea's margins, the wetland is the best place for wintering, laying and hatching. The species of birds found in Anzali Wetland are as follows:
Duck and goose species include white duck, oak duck, crested duck, golden eye duck, black duck, fawn duck, black duck, green duck, goose bride, gray goose
Swan types include strong screamer, strong dumb, small strong
Types of herons include purple herons, gray herons, white herons
Cormorant types include black cormorants, small cormorants, snake neck cormorants
Other types of birds include Kooli fish, Gilanshah (rain chicken), wetland eagle, Chankar Charkha, Abruzzoids kutkor, blackcurrant, pelican, flamingo, small butimar (round tube), large kashim and small kashim, kakaei, kutkai Redhead, Tawowsk (Torshag), Chelchel (Haji Haji), Chewak (Kulkapis), Sar (Cia Nesper), Shrub (Kashkrat), Green Bee, Black Raven, Raven, Pheasant (Taurang), Cowboy (Charrock), Sparrow (Chi) Chi Ney), Gilar, Tail (Second Terracotta), Cesc (Solomus), Mergus Cockley, White Mergus, Mullet (Elk), Cockroach (Wach), Gypsy, Salim, Large Mergus, Red Breast, Flower Chest (Seven Colors) ), The Elicite Bird (Gingerbread) and …
Anzali wetland is the most important source in breeding and reproduction of Caviar fishes and kinds of bon fish which have more than 50 species of fish. This wetland crab is also home to some of special kind of crab in whole the world. Among the Anzali Wetland fish are: Duck, Carp, Large Wire, Catfish, Kingfish, Black Gypsy, Perch, White Perch, Haji Tarkhan Perch, Sauce (Yellow Feather), White Fish , Mullet, roe, phytofac, bighead, herbivorous, salmon, sturgeon, mung bean, fish dog, pond carp, mackerel, small wire, fry, beautiful fish, leech, fish jar, snake Fish, white amur and  Sos fish.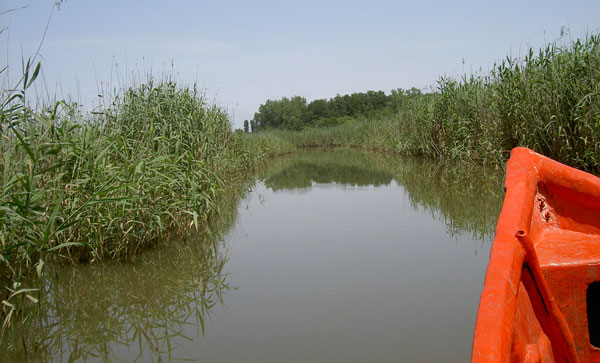 Anzali wetland mammals include sheng, boar, hedgehog, weasel, cashew, jackal, otter, forest cat, etc.
 Their populations have been declining due to shrinking habitat and unnatural hunting and are highly vulnerable to extinction.
Also found in this area some reptiles such as three lizards, furry turtles, European pond turtles and snakes.
In Anzali Wetland, five species of frog have been observed.
 Also, insectivores such as sagebrush and rodents such as the squirrel and the black rat live in the area.
Inside the Anzali International Wetland there are many small and large islands.
Large and small Ghalam Goode: The Ghalam Goode is an island located along the outer and eastern end of the Anzali coast and is usually a place for ships to anchor. The island has a long, deep passage that resembles a river and is 125 meters wide. The Ghalam Goode is covered with grass, and its domesticated cattle graze on it. The island is separated from the city by a river and has a way by a bridge to the city.
Big and small Mian Poshte: A long Island named Mian Poshte is located in front or the Ghalam Goode that it's surface is and covered by the trees. This island is just one meter above the sea level and the strong winds caused flood there. It is 1260 meters in length from east to west, and the widest part in the east reaches 765 meters. The island's connection with the city is a motorway bridge built on the river. In the past there was a gunpowder warehouse on the island, with traces of a garden called the Shah Garden dating back to Khosrokhan. Apart from the building, there are also five villas and forty-five fishing huts and two cocoon-drying establishments called Yousef Abad.
Mian Ghodi and Akbar Abad: Akbarabad is a very small island located near Ghalam Goode and is located next to Mian Ghodi.
Mian Poshte Kool: A small island at the top of the Mian Poshte known for its planted trees.
Moradgoode: Moradgoode Island resembles a swimming pool and is called a "Selter". Residents of Colliver in Anzali Port come to the island for duck hunting. In this area, the one who earns his living through duck hunting is known as Sel Bar. Part of the island is also cultivated and hemp.
Cheragh Poshtan: The Island is 6 kilometers east of Anzali and east of Morad Goode.
Other islands: In the east of Anzali, there are islands or gardens that include dry land, Sayyid Kazem Bagh, Pile Ali Bagh (Pele Ali Bagh), Mir Hassan Garden. Taleghani and Abkenar are other islands of the lagoon
Boating in the Anzali Lagoon is one of the attractions that tourists love. In Anzali Lagoon, tourists can pay a raft for a fee and overlook the corner of the lagoon. Watching the migratory birds traveling from neighboring countries to Anzali Wetland is also another destination to enjoy. Kayaking and fishing are also available for tourists. Photographing the spectacular beauty of Anzali Wetland is one of the activities that attract tourists. Restaurants and cafés are among the other amenities in Anzali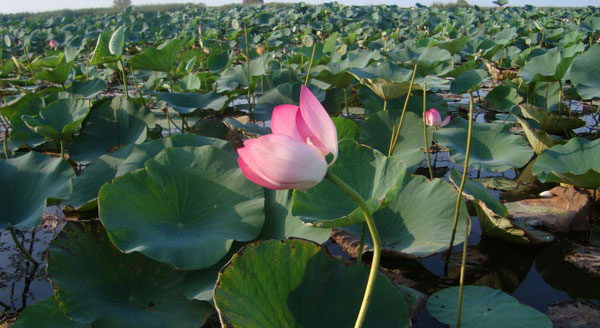 Anzali Wetland has economic value and can be used in the production of fertilizers, building materials and trace elements.
 Prior to the year 1978, Anzali Wetland had a depth of 8 meters and it was possible to catch 7 to 8 tons of fish, but in year 2012 the depth of the wetland to 1.5 to 2 meters and in some areas, depth of water falles less than 1 meter. The Anzali Wetland, which is the heart of the line, is in complete ruin like many other wetlands and the country's natural attractions and resources.
Introducing urban, rural, industrial and agricultural wastewater into the wetland, oil spills, settling of waterborne contaminants as well as the introduction of Azolla into the wetland, its growth on the wetland, preventing light from reaching the marshes and destroying them. They are working hand in hand to annihilate the Anzali Wetland forever and cause irreparable damage to this area and its people.
The Anzali Wetland has warm, humid summers and mild winters. The best season to travel to this area is spring and autumn, but keep in mind that if you are going to see Anzali Wetland, you should travel from late June to the end of summer.
Access to Anzali Wetland is also very easy. Just go to Guilan province and the port city of Anzali and take the boats that take you to the lagoon.